My Favorite Baby Sleep Products
The Best Baby Sleep Product Essentials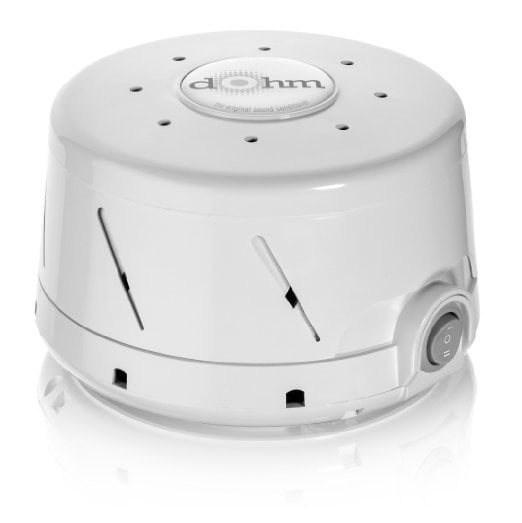 Dohm White Noise Machine: This is the best white noise machine, hands down. It actually has a sound producing fan inside so its a real whirring sound rather than an electronic sound, which is important because some sounds of electronic white noise might drive your baby nuts. The sound is adjustable. I have 3 of these at home and I put them in my office too. I'm obsessed.
Pack-N-Play: Graco Pack-n-plays are the best. I like this one because it comes with a "newborn napper" which helps a brand new baby feel snuggly and cocooned those first few weeks. The best sheets are here. If baby will sleep in a pack-n-play long term, I love this mattress to give baby some extra padding. And if lightweight and easily portable is important, this one is the best by far.
VTech Video Monitor:  I love this video monitor because it has great range, doesn't need wifi, has night vision, zoom and 2-way talking., The best part is that you can play a 15-minute lullaby, which sets the stage and becomes a consistent part of calming down before bed. Other great options are Motorola Baby Monitor here, Infant Optics here and another great option from Samsung here.
Nest Cam: I can't tell you how much I've loved my Nest Cams. I don't personally love it as a replacement for a video monitor but you can definitely use it as such. They're great for nanny cams, extra eyes in the toy room and for security. They store footage for 3 hours-30 days so it's super handy to answer the "what just happened?" questions.  Just ask me about the great poop-splosion. Nest cam saved the day.
aden + anais Swaddle Blankets: These are soft, lightweight, super easy to swaddle with, and can be used as a nursing cover and carseat cover. What's not to love about that?
Pom Pom swaddles: You guys! These are so adorable and sooo soft. They're perfect for newborn photoshoots too. There are tons of colors and styles in the shop. Go check out Little Ewe and Me for more options
Swaddle Me: Let's face it, regardless of how awesome you are at wrapping the perfectly tight baby burrito, once your baby hits 3 months or so he'll find a way to ninja out of it. UNLESS you have a swaddle me. 
Hushh Portable White Noise Machine: A good white noise machine is key, and this portable sound machine is the best around. Clip it on baby's car seat when your little one needs to nap on the go. It's a game changer.
Halo Sleep Sack: NEW ADDITION. Hold on, this thing is amazing. I'm frantically adding this to my list after my 4 month old slept 12 hours straight last night. I just realized that this swaddler is the key that differentiates mostly good sleep and awesome sleep. She loves to be wrapped up… but she is SO squirmy now that she's older. I couldn't delete the "Swaddle Me" above and replace it, but for older babies I like this better. There's more velcro and more room at the bottom for their little legs to kick. 
Merlin's Magic Sleepsuit: Looking for a way to transition out of the swaddle because your squirmy baby has started rolling or is just a swaddle ninja? Try out this little getup. It gives them the snug comfort of being wrapped up, keeps them from sleep reflexes that jar them, and makes them look like the cutest little marshmallows you've ever seen. I'm also pretty sure it prevents them from rolling so baby will stay sleeping on his/her back. Plus, even though it looks poofy your baby won't get too hot in it. 
Love Light: Okay, that's not it's real name but that's what we call it at our house. I gave this darling nightlight to my daughter when she was having nightmares and told her that it's a special light powered by my love. If she ever feels scared or needs to be reminded of how much I love her, she can simply push that button and feel my love. It totally worked and she stopped coming in my room at night!
Glow Sticks: For toddlers, glow sticks are waaaay cooler than a regular nightlight. If you're desperate for something that makes your little one WANT to stay in their own room at night, this is it. Give a different color every night and tell them they only get a glow stick if they stay in their room all night long. The light lasts about 10 hours so it'll get them through the night!
Ok! to Wake Clock: If you have a toddler, buy this right now! Set the clock to turn green whenever you determine an appropriate wake time in the morning is. Toddlers are notorious for waking up way too early at times, and this provides a great visual reminder to know if they're allowed to get up yet or not. 
Stoplight Wake Clock: This is the same concept as the other Ok to Wake Clock, but it has a red light to signal when they shouldn't get out of bed, as well as a green light to signify when they can. This is great for kids who wake up in the middle of the night and venture into mom and dad's room. 
Aveeno Baby Lotion: Though Johnson & Johnson's lotion is popular and smells incredible, it doesn't really moisturize. This stuff is the real deal and it smells amazing too. Use it after baths as part of your bedtime routine. I really noticed the difference it made in the softness of my little ones' skin!
Wannanub Pacifier: Not only is this adorable, but its super convenient. You can tuck this into a swaddle or clip it into the car seat so baby can easily get back to the pacifier when it falls out after he falls asleep. A regular pacifier clip is also helpful when baby is older and can reach for it himself.
---
Additional Baby Essentials
Freshly Picked Diaper Bag: Hands down, the best diaper bag ever created. I'm obsessed. It fits everything, it cleans easily, has the perfect number of pockets (10!) so you can hold everything you need, and it's actually stylish. The FP City Pack is super cute too. Other options are the Skip Hop bag here, it's comparable to the Fawn bag and super cute. Another option is the Hip Cub diaper bag here and the Skip Hop Diaper bag here. We all know how important a good bag can be, so check these out!
City Select Stroller: City Select is truly the best stroller out there. I actually don't own this stroller yet and it's my biggest purchase regret. It's a little pricey, which is what held me back, but it would have been so worth it. It's easy to maneuver, has great storage, folds up easily, is compact, and the best part… it easily converts to a double stroller and you can get a riding board too. So you'll have the same stroller as your family grows. And if you just plan to have 1– resell it on craigslist after. They hold their value.
Covered Goods Nursing Cover: When I had little Miss, everyone used these smock nursing covers, but by the time I had Peanut I got covered goods and it is 1,000x better. They're lightweight, breathable, and you can use it as a car seat cover and grocery cart cover too. It's super easy to use and keeps you totally covered up while you nurse in public. Knock-offs are here, I'm sure they're exactly the same.
Baltic Amber Teething Necklace: I'm generally a bit of a skeptic if I'm being honest, but people swear by baltic amber. Claims are that it has natural soothing properties to reduce pain and inflammation during teething. I figured it was worth a $16 investment and my girls were great teethers. Am I positive it was because of the necklace? No. But am I willing to go without it for the next baby? Also no.
Baby Brezza Bottle Maker: Hold on. This thing is amazing. If you are using formula to feed your little babe you need this in your life! Simply push a button dictating how big of a bottle you're making and the Baby Brezza dispenses it for you… at the perfect temperature. What!? This is an absolute must for mamas of multiples. 
Brica Fold n Go Travel Bassinet: This travel bassinet is a new purchase with baby #3 and I'm legitimately devastated that I didn't have it before. It is wonderful!!! It weighs 2 pounds. TWO! Instead of lugging my huge pack n play everywhere I can just bring this tiny thing and put the baby down for a nap anywhere. I've set it up on the floor at the airport, at the beach, at the pool, in more closets than I can count, in a spare office at work… you name it! 
Keyfit Carseat Caddy: Maybe I'm just lazy, but there's something I dread about lugging a heavy, bulky stroller all over the place. But this little carseat caddy is life changing. It's so easy to fold, it's lightweight and small but it still has plenty of space underneath to store all my crap. (I mean, all the necessities for my little darlings.) I wish I had this for my first two kids because its 1,000 times better than a regular stroller. 
Shiatsu Neck and Back Massager: This isn't a baby product, you say? Well, I didn't ask you. Pregnancy will do a number on your back and hips… and feet. And legs. Plus nursing and carrying a baby all around town will do a number on your back. Do yourself a favor and just buy this. Right now. You can thank me later. 
Get Your Sleep On: by ME! Christine Lawler. Duh, of course this is the book I would recommend most. This is basically a cliff-notes version of all the best sleep books out there. You're busy and so many different books contradict each other so I condensed everything so it's easy to understand and implement and you can read it quickly. I walk you through the ins and outs of sleep training, including why, when and how. You don't really need any other books, but if you MUST read more… these are some other good ones. 
The Happy Sleeper by Heather Turgeon, MFT and Julie Wright, MFT: This is another great book that really walks you through the science behind WHY sleep is so important, and provides a gentle plan to get baby sleeping with a modified crying it out plan. I truly recommend it for any parent, expecting or current.
NOTE: This post contains some affiliate links. If you purchase a product through one of the links on this page I'll earn a small commission at no extra cost to you. Thank you for your support!