All Courses, Products, and Services
---
Newborn Sleep Essentials Video Class
---
Adult Insomnia Video Class
---
Sleep Training Guides & Books
The troubleshooting guides below are created as a first pass to give you answers to the most common baby/toddler sleep struggles. You'll get a way more comprehensive answer than I could give in a DM, email or live Q&A, at a fraction of the cost of a consultation. Please keep in mind that every baby is different and a consultation is still your best option to get answers tailored to your specific baby and circumstance.
In an effort to simplify and explain the various guides I offer, I'll give you a short
breakdown:
Get Your Sleep On
This is my book, and aside from the video course, it's your best option for babies age 4-24 months who have never been sleep trained. I walk you through the process of sleep training, why it's so important, and how to do it in a way that fits your style. I teach you how to get optimal scheduling and how to help baby learn to initiate sleep independently. Best of all, it's less than 100 pages so I cut right to the point and make it a breeze to implement. The "Scheduling and Preventing Over-Tiredness" and "Sleep Train Your Baby in 14 Days" are the only guides that are specifically in here. I have little tidbits that are addressed by the other guides, but in general, the troubleshooting guides are intended as a supplement to this book if you need them.
Free Newborn Sleep Guide
If you're like most parents, the biggest question on your mind is how you can get your baby to sleep longer stretches at night. Rest assured. In this simple little guide, I'll tell you the 7 most important things you can do to get sleep started on the right foot.
Magical Calming Tricks
There is nothing more stressful than having a fussy baby who seems inconsolable. In this quick guide, I'll give you 5 tried-and-true calming tricks that will help your baby (0-4 months) relax in no time. Great in conjunction with the Tummy Troubles Guide.
Reflux and Tummy Issues
If your baby is under 6 months and is inconsolable at times, wakes as soon as you set him down, and is fussy and disgruntled at night and the wee hours of the morning, start here to rule out tummy troubles.
Transitioning Out of a Swaddle
There comes a point where swaddling is no longer
necessary, or even safe. I'll tell you when to drop the swaddle and share a few ideas
and products to help this transition go more smoothly.
How to Cut Down on Night Wakings
Baby is waking up more than you think he should and you're itching to sleep through the night. I'll clarify what's normal at every age and run through the 3 biggest culprits that impact night awakenings. This guide is best for babies 4-18 months.
Extending Wake Up Time
If your baby or toddler is waking up before 6 am, that is too early! Despite how it may seem at the moment, you can actually make your kiddo wake up later. And no, the solution isn't a later bedtime. If your kiddo is older than 18 months, you'll want to grab the Toddler Power Struggles guide as well.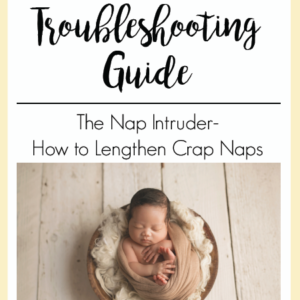 Crap Naps
Unless it's the 3rd nap of the day or your baby is younger than 4 months, naps less than an hour are incomplete. But lots of babies nap for 45 min or less. I call that a "nap intruder" and I'll show you how to push through it to get longer naps.
Stuck in Developmental Transitions
When baby is learning a new skill, sometimes he gets stuck in the transition before he masters it. If your baby gets stuck rolling over, sitting up, or standing and you're wondering if you should intervene or not, this is the guide for you.
Pacifier Issues
The pacifier can be a wonderful soothing aid, but what happens when it starts to create more problems than it resolves? When baby is too dependent on the paci, he might start waking up more at night needing it to be re-inserted. In this guide, we'll tackle how to know when the pacifier is creating problems and what to do.
Sleep Training Issues with a Room Sharer
You don't always have the space to have baby in his own room. So, what then? I'll give you some simple tips and tricks to sleep train even when baby shares a room with you.
Sleep Train Your Babe in 14 Days
Your best place to get all the sleep training info is to buy my book, here. BUT, if you don't want to invest in that, here's one of the most valuable chapters from it. This 14-day guide walks you through how to implement my plan using CIO or Modified CIO methods.
Scheduling and Preventing Overtiredness
The cornerstone of my method (and
successful sleep training) lies solely on preventing over-tiredness and understanding your baby's ideal schedule. Your best place to get all the sleep training info is my book, here, but if you don't have time to read the book, this guide will distill the basics.
Bedtime Battles with your Co-Sleeper
If you're co-sleeping and you'd like to continue to do so, sleep training is still possible but it's going to look a little different. In this guide, I'll tell you how to reduce night awakenings, how to foster self-soothing, what you can do if baby will only sleep on top of you, and more!
Transitioning from Co-Sleeping
If you have been co-sleeping but now you want to move away from it, this is the guide for you. You can choose how abruptly you'd like to transition and then I give you tons of options and ideas to choose from to make the change as smooth as possible.
Co-Sleeping with your Toddler
Co-sleeping with a toddler or older child is different than co-sleeping with a baby. In this guide I'll run you through some important things to keep in mind if you want to continue co-sleeping, and I'll tell you how to transition from co-sleeping if you're ready to be done.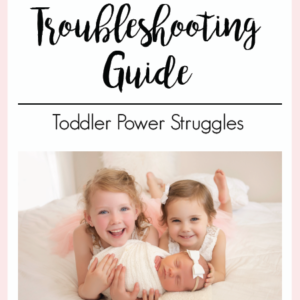 Toddler Power Struggles
Before you tackle any toddler sleep issues, I highly recommend this guide. I jump into some toddler behavioral psychology and I'll teach you some tried and true ways to work with your toddler instead of creating a power struggle.
Separation Anxiety, Nightmares, and Fears
Separation anxiety, nightmares, and fears are something virtually every toddler will experience and they will wreak havoc on their sleep (and yours!) This guide will give you tons of ideas on how to gently comfort and reassure your tot without letting sleep habits go down the drain.
Siblings Sharing a Room
You've got kids sharing a room and you're wondering how on earth to make it work and protect everyone's sleep. In this guide, I run through some simple things to keep in mind for room sharing arrangements at different ages.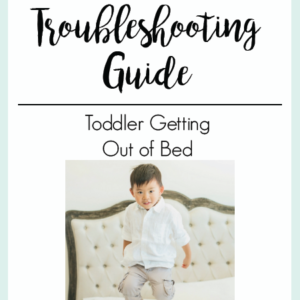 Toddler Getting Out of Bed
Now that your little one can either climb out of his crib or he's in a big kid bed, the new sense of freedom and independence will mean getting out of bed. A lot. Using some toddler psychology, boundary setting and incentives, I'll show you how to keep him in his own room.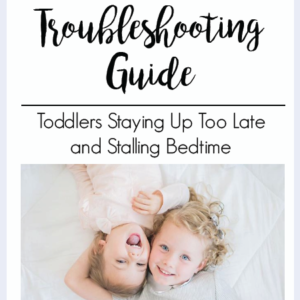 Staying Up Too Late and Stalling Bedtime
If your toddler takes FOR-EV-ER to finally go to sleep and you're losing your mind, this is the guide for you. I give you some simple tips and tricks and help you pick your battles and set realistic boundaries. Grab the Toddler Power Struggles Guide to go along with this one.
Traveling With Kids
You want to take a family vacation, or it's a holiday and everyone is going to visit Grandma. I'll tell you how to preserve sleep while you're on vacation, when to travel, how to handle the time change, and where you should have everyone sleep.
Surviving Daylight Savings
Daylight Savings can be a doozie. Not to fear, with a few simple tips you and your family can adjust seamlessly. Download for free here.
Your purchase will be available for download immediately after purchase. Please download it and save it to your device to ensure lifetime access. It will also be emailed to you. Make sure your email address is entered correctly and check your spam folder if you don't see it. All services and guides are non-refundable. Please make yourself aware of the AAP recommendations for safe sleep, and exercise extreme caution if you choose to deviate from them.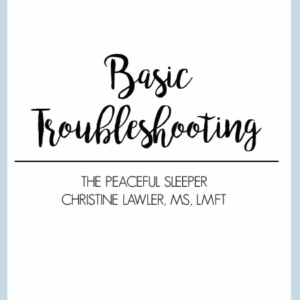 Basic Troubleshooting
$30 – $225
Troubleshooting Package
$100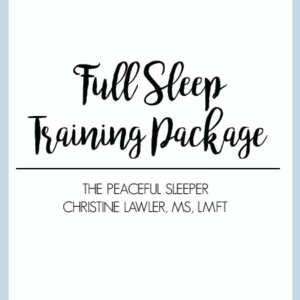 Full Sleep Training Package
$300 – $500
In-Home Sleep Training Package
$2,000
Comprehensive Sleep Training Package
$5,000