If you'd like to receive a more personal level of attention than our guides and videos then these are for you! We want to work with you to solve all of your baby's sleep troubles. 
Basic Troubleshooting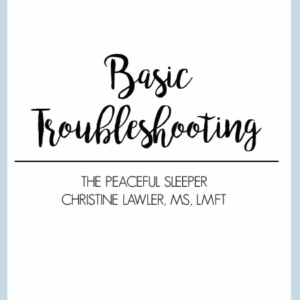 $75-$225
This option is perfect for you if you have some questions and are looking for individualized support. Choose from 30 or 60-minute consultations with Chrissy or Britta to get one-on-one support for you and your babe. It is a great starting point to help diagnose potential sleep issues in your child and how to correct those problems. Relevant troubleshooting guides can be emailed afterwards (at no charge) for additional support.
Troubleshooting Package
$100
If you've gotten my book, have a good understanding of the concepts and have created your own sleep plan but need a little support as you implement it, this is the perfect option for you. 10-minute phone consultation with Britta, a trained Peaceful Sleeper Consultant, and then one week of unlimited texting support as you implement your plan and navigate hiccups along the way. 
Full Sleep Training Package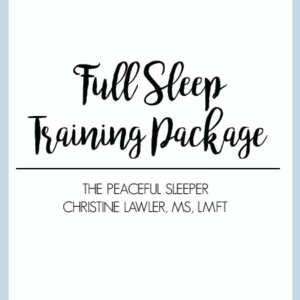 $299
Via Facetime or over the phone, you'll work with Britta  for a comprehensive assessment and full history of baby's sleep habits and the things you've already tried (1 hour). You'll get tools like a sleep log, the book Get Your Sleep On, and some additional relevant guides. Then, you'll get unlimited follow up for the next 2 weeks as you implement our plan. Most clients have a fully sleep trained babe after these two weeks! 
*This is the most popular option* 
In-Home Sleep Training Package
$2,000
In addition to the full-assessment and history, I'll come into your home and be by your side those first few nights when everything is new and seems the most overwhelming. I'll give you tools like sleep logs, my sleep training guide, and a customized sleep plan for your child, and then I'll be by your side to help you implement it. I'll come into your home or be on call with troubleshooting for up to 10 hours the first two weeks. Unfortunately, sleep regressions will still happen and teething, illness, vacations and growth spurts will throw off your sleep routine. Not to worry, included in this package is up to 5 hours of consultations to use over the next year. (These hours can be split into smaller troubleshooting sessions).
Comprehensive Sleep Training Package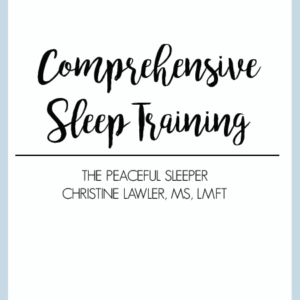 $5,000
The hardest part of sleep training is being the one to actually do it. I'll take the stress out of it and do it all for you. What does that mean? We'll still do a comprehensive assessment and take a full history but it'll be much more detailed. Then, you can leave and I will sleep train your baby for you. Go on vacation with your partner, if you'd like, and come home a week later with a sleep-trained baby. I will love your baby as my own and give you access to 24-hour camera footage. If you'd rather not leave town, I'll come to your house every day for a week to do naptimes and bedtime (and stay through the night if you'd like me to). During week 2, I'll help you and baby transition back to the new schedule for up to 5-in home hours over the course of that week. You will also get up to 5 hours of consultations (split up however you choose) to use over the next year.