The Executive Mommy Package
Great sleep can be
|
Being a mom can feel overwhelming.
Sleep doesn't need to.
Not sleeping isn't really an option for you. You love your bundle of joy so much and are so excited about this new phase of your life. But the lack of sleep? It's a problem. You're not your best when you are tired and you need to be at your best.
You have a busy schedule and being tired all the time when your newborn keeps you up all night is taking it's toll.  You're not the best version of yourself when you are tired. In fact, you've noticed yourself just about dosing off in the middle of meetings after a long night of no sleep.  
At this point, what really matters is finding the most effective, yet loving, way to get your baby to sleep.  You want to sleep train your baby in a way that they feel safe, secure and attached to you.  But you need them to sleep. So, you're looking for a solution.  You're looking for an efficient, yet loving, sleep training method that will work.
If this sounds familiar, you are in the right place.  This package is designed for busy, professional moms who need to be at their best both at work and home.  You'll get our highest level of sleep training support and have a sleep coach helping you every step of the way.  
Here's the typical journey most moms go through trying to sleep train their newborn:
Search the web for "how to make newborn sleep" or "baby won't sleep". Then, read countless blogs on infant sleep training. While while sifting through the mountain of information, they're trying to decide which to baby sleep training method to use and what to discard as subjective nonsense.
Join mommy forums where contradicting opinions about sleep training are shared daily and no one is a sleep expert.
Ask friends and family for their best advice to get baby to sleep, only to find that this is just as confusing as the online forums.
Feel overwhelmed, confused and like nothing is working.
There is a better, easier way!
What if you could get great sleep at night, even with a brand-new baby?
What if you had the peace of mind knowing your baby would be getting the best possible sleep at every age?
That anytime you had a question you could hop on the phone with your own personal sleep consultant who knows you and your baby, your unique circumstances and can give you personal time and attention.
Introducing: The Executive Mommy Sleep Package
A personalized, concierge sleep coaching service for you and your baby to get the best possible sleep from the moment you bring baby home from the hospital.
This all-inclusive sleep training package includes:
Weekly check-ins with your sleep training expert all year long to answer your questions:
Up to 60-minute calls every week for baby's first 6 weeks
Up to 20-minute weekly calls thereafter for baby's first year
In-home sleep training at 4 months
Our resident sleep training expert and founder, Chrissy Lawler, will travel to your home and sleep train your baby with you when he or she turns 4 months.
She will stay in your home and sleep train with you day and night for 4 days. (Many parents choose to have a little getaway with your partner during this time, but it's up to you!)
By the time Chrissy leaves, you'll be well on your way to having a sleep trained baby, along with a bespoke sleep plan and schedule for you and your baby to get the optimal amount of sleep.
You will be a pro at lengthening naps and cutting out night awakenings.
Included Digital Resources
Newborn Essentials Sleep Course- a complete video course to use as a reference and supplement to your personalized sleep plan
Troubleshooting guide bundle– which includes over 25 guides that dive into the most common sleep training issues and how to overcome them.
The book, "Get Your Sleep On"– as a written reference and supplement to your personalized plan.
12 months access to The Peaceful Sleeper VIP Exclusive Community- to get support from other moms and have access to weekly lives with Chrissy and monthly webinars!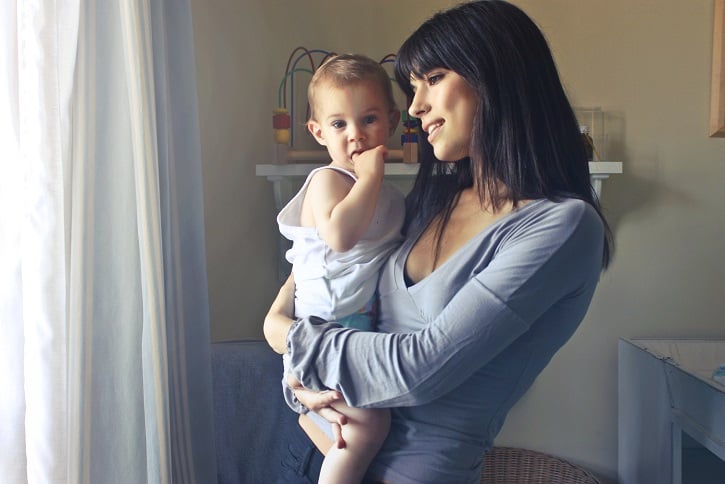 Chrissy will work with your nanny and train her to implement best practices for optimal sleep so she can continue to implement all of the best sleep tips.
 *Using a nanny or in-home childcare is highly recommended. Daycare is a necessary option for many moms, but it just can't provide an optimal sleep environment. Your results might not be quite as stellar if you send your baby to daycare.
Why does your baby need sleep training? Simple.
You can't afford to be foggy, groggy and exhausted.
Being sleep deprived takes a huge toll
Not sleeping takes a toll on your mental and emotional well-being. Sleep deprivation is the root cause of postpartum depression, anxiety and baby blues. We're just not as happy when we're exhausted. Without sleep, we're snappy with our partners, snappy with our toddlers, frustrated with our babies, and more emotionally on-edge.
It Can Affect Work Performance 
You're not your best at work when you're tired, it's a fact. And, when you've got an important task at work, having the intellect of your 11-year-old self just doesn't cut it. Especially if you're a working mom with a high-stakes career, you owe it to yourself, your patients/clients, and your family to be the best version of yourself. We are the best versions of ourselves when we're sleeping well at night.
Lack of Sleep Causes a Foggy Brain
Forgetting the most basic things, losing concentration, having difficulty with information recall and overall just feeling spacey and kind of dumb. "Mom brain" is real. It's easy to laugh at and make jokes about, but sometimes we just can't afford to be off of our A-game. Especially you, high-achieving momma! You owe it to yourself, your patients/clients, and your family to be the best version of yourself.
T
ake the stress out of sleep and embrace the peace of mind from knowing that your baby is in good hands.
You have a seasoned mom, licensed therapist, and sleep expert in your corner. So you can skip the overwhelm and jump straight to enjoying motherhood because you're a happy mama and you've got a happy baby. And if you're a working mama, you can go back to the office knowing you're still operating at 100%. Gone are the days where having babies makes you a professional liability. Forget that. Now, you're a boss mom—which basically gives you super powers.
Cost: $10,000 for baby's first year
Reserve your spot today! 
Each client deserves Chrissy's full time and attention, so she only accepts one new executive client per month. Don't miss out!
Baby is already here? No problem. We can still get started and you'll still get a year of support. Reach out today to see if there's still a space available.
Learn more about other options for in-home sleep training here
We are the best versions of ourselves when we're sleeping.