With things like kiddos going back to school, the seasons changing, and so many other factors, it's just that time of year again…sick season. And it's a whole new ball game when you've got a sick baby!
I feel like everyone is getting sick these days. It's one thing to be sick, it's another when your little one is sick, and it's a special kind of hell when you're both sick. 
In this blog post, I'm going to go over…
What do I do about sleep when my baby is sick?
6 Tips for Helping Your Sick Baby Feel Better
What about co-sleeping with my sick baby?
How can I get sleep back on track once my baby is feeling better?
Whether you're reading this blog for yourself, your little one(s), or the whole family, let's jump right in!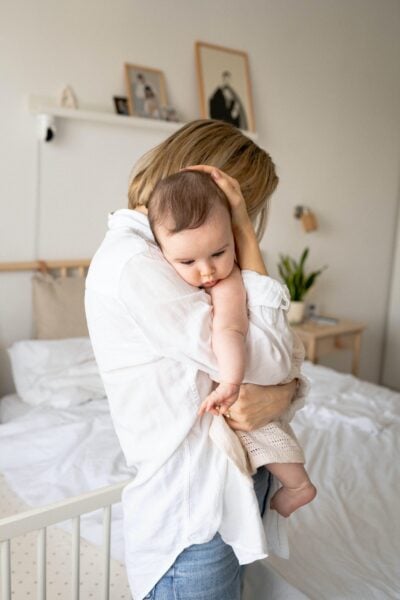 What do I do about sleep when my baby is sick?
It is so so stressful when our babies are sick. Not only is it the worst to see them not feeling well, their sleep goes to crap…making them feel even worse.
If you and your little one have already gone through the sleep learning process, navigating sleep through their sickness is going to be so much easier. When you and your baby are used to getting great sleep through the night, it is so much easier to know when something is different, like them not feeling well. 
The biggest piece of advice I have is for you to give them as much comfort as they NEED. When you are tuned in to YOUR baby and their sleep nuances, you can better discern these needs. 
A small sickness will usually last around 1-3 days. When your baby wakes up in the night during a small sickness, it is important that you check in with them throughout the night. This is just to make sure nothing has changed, offer any quick comfort they need, and let them go back to the sleep they need.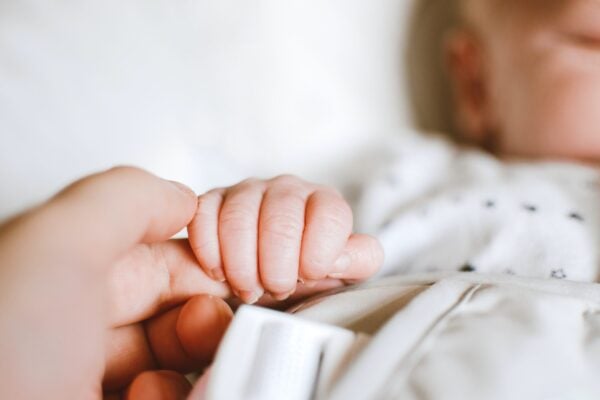 When your baby is dealing with a bigger sickness, you're going to need to use your mom-gut. Your little one might do better receiving even more comfort than normal from you (rocking them, snuggling back to sleep, sleeping in their room on a floor bed, etc.).
With sickness, sometimes babies may sleep more than normal…this is totally fine! Our bodies need that rest to work through the sickness. I recommend capping naps around 3 hours and just being patient with an uprooted sleep schedule. 
The best thing you can do for their sleep during this time is to give them everything they need and provide as much consistency as possible. Things can fall back into place once they are feeling better!
*Side note: If your baby is experiencing their sickness for longer than 2-3 days, contact your pediatrician!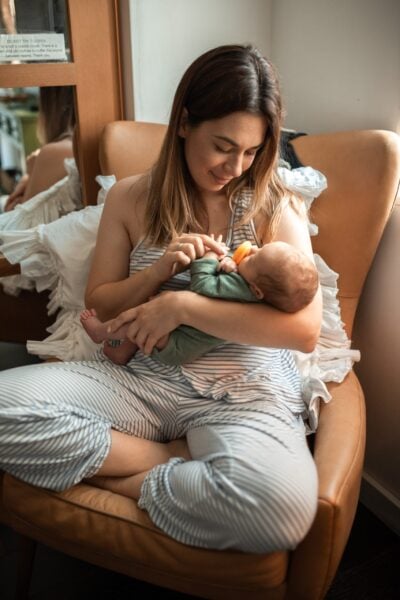 6 tips for helping your sick baby feel better
While sickness takes time, there are totally things you can do to help soothe and comfort your sick baby:
1. Bring them into the bathroom and turn on a super hot shower
The steam can really help them with congestion!
2. Use a baby-safe chest rub
Apply a baby-safe chest rub to your little one's feet to help with any congestion they might be having.
3. Give Tylenol if needed
Sometimes you just need to pull out the big guns. Be sure to follow the dosage instructions on the bottle and, when in doubt, double-check with your pediatrician (especially if your baby is younger than 6 months old)!
4. Use a humidifier
*Pro tip: turn on the humidifier BEFORE naps and bedtime when your little one isn't in the room. Get it nice and humid before sleep time and then turn it off when they are actually in the room sleeping. I've had to learn the hard way that humidifiers can be a fire hazard, so please be aware!
5. Let naps go a little longer than usual. 
It is totally natural for sleep schedules to get thrown off when your baby isn't feeling the best. Still, we don't want to completely throw off their nighttime sleep. Consider capping their naps at around 3 hours.
6. Soak up all the snuggles. 
It is SO tough having a sick baby! Do what you need to do to help them feel better and get the comfort and sleep they need during this time. Know that you can work on getting sleep back on track when everyone is feeling better.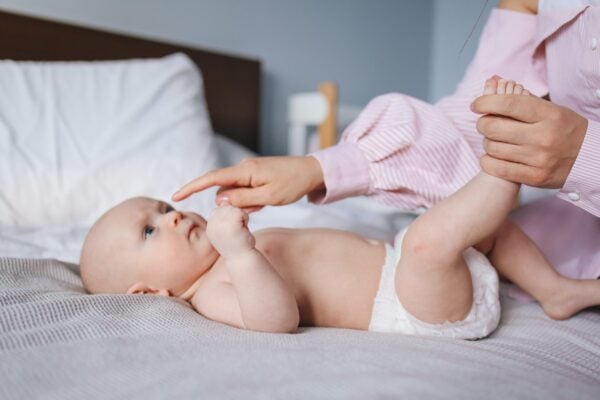 What about co-sleeping with my sick baby?
Out of desperation and/or worry, many parents will bring their baby into bed with them and try co-sleeping. If you are choosing to go this route, please be aware of safety issues. The La Leche League has provided 7 things you can do to reduce the risk of SIDS and suffocation if you choose to co-sleep:
No smoking

Sober parents

Nursing day and night

Full-term healthy baby

Baby on back

No swaddle

Safe surface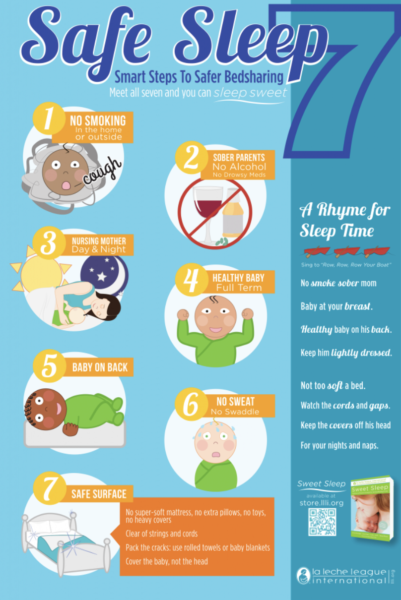 Source: https://llli.org/breastfeeding-info/sleep-bedshare/ 
Click here to learn more about co-sleeping safety guidelines!
How can I get sleep back on track once my baby is feeling better?
What your baby needs most once they are feeling better is getting back to a regular sleep schedule. And know that being able to bounce back from sickness is important for sleep to go back to normal. What I mean by this is be patient! Sleep might be totally wonky for a brief period of time, but getting your baby back on their regular sleep schedule is totally possible…just be consistent!
If you're having a hard time with this, need extra support, or want to run your schedule by a sleep expert, book a consultation! We can help build and troubleshoot a schedule that works for your baby if sickness seems to have thrown off their sleep in any way.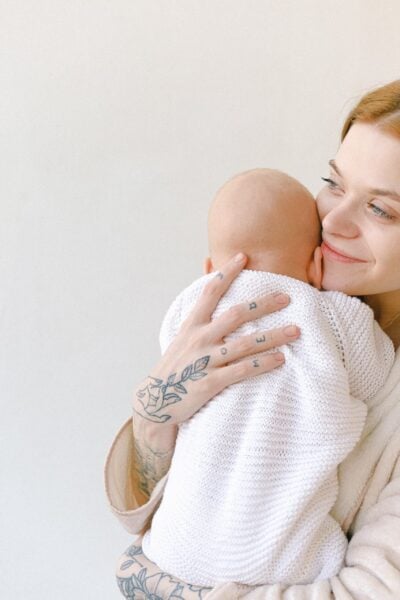 Recap on Helping a Sick Baby Feel Better
Navigating sickness with a little one is so much easier after you've already gone through the sleep learning process…you just know how to tune in and discern their needs! I have content libraries for 0-4 months, 4-24 months, and 2-5 years to help your baby (and you) get the best sleep possible. 
The best thing you can do for your and your sick baby's sleep is to give it time, tune into their needs, and know that sleep can and will get back to normal once everyone is feeling healthier and stronger. Be patient, and know that you will get through this! 
As always, trust your mom gut when it comes to your baby's sleep and health. Contact your pediatrician if any part of your baby's sickness isn't showing signs of getting better by 2-3 days or to get any additional information you may need to help your sick baby get through this.