So you finally bit the bullet and started sleep training. Maybe you've been at it for a few days or a few weeks, but either way, you're starting to think that sleep training is just not working. 
Before you throw in the towel completely and succumb to sleep deprivation, I highly recommend giving this blog post a read. There are so many misconceptions around "sleep training" and since every baby is different, it's actually really easy to "do it wrong". In this post I will go over the common reasons why "sleep training" may not be working and what you can do to ensure it DOES work. 
Here are the 7 main reasons why "sleep training" may not be working for your baby: 
You're using the wrong method or approach 
You've hit the "sleep training regression" 
Let's dive in and get your little one back on track for great sleep! 
You're using the wrong method or approach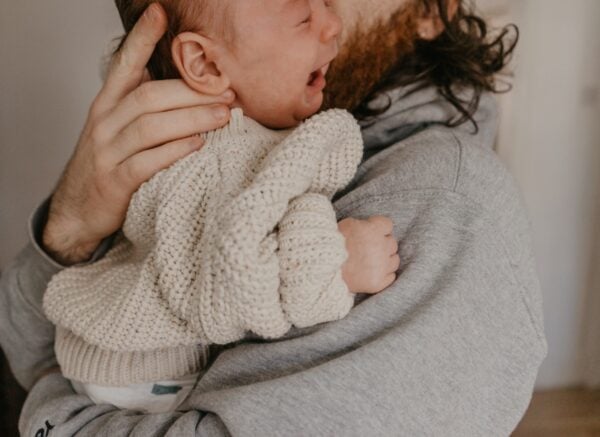 There are so many different methods and approaches to "sleep training" out there. And everyone boasts that their way is the best way. The thing is, there isn't a one-size-fits-all approach to sleep training. Every baby and every family are different, and because of this, it's important that you use an approach to teaching the skill of independent sleep that fits the learning style of not only your baby, but you as well. 
The Peaceful Sleeper method to sleep learning is a supportive and tuned in approach to optimizing your baby's sleep. It is grounded in science, fosters attachment and is holistic and collaborative. We have 4 main approaches, and each approach is meant to be tailored to your individual baby. You can read all about what sleep learning is, and how to know what the best approach is for YOUR baby here, in this blog post. 
My goal is to empower you with the knowledge and confidence you need to get great sleep! And part of this is knowing what approach to sleep learning will work best for your little one.  
Your baby is overtired
Preventing overtiredness is the key to getting great sleep. When you are starting any type of "sleep training" it will go a LOT more smoothly if your baby starts with a full sleep tank. This is why we recommend that when you start sleep learning, you spend the days leading up to Day One doing whatever you can to optimize your little one's sleep. Stroller naps, contact naps, rocking back to sleep for short naps or night wakings…whatever it takes.
It's also important to follow age appropriate wake windows and watch for sleepy cues, not only in the days leading up to any type of "sleep training" but also during the process. When a baby is overtired they can wake more in the night, take shorter naps, have early morning wakings, false starts, and just not be in an optimal space for learning a new skill.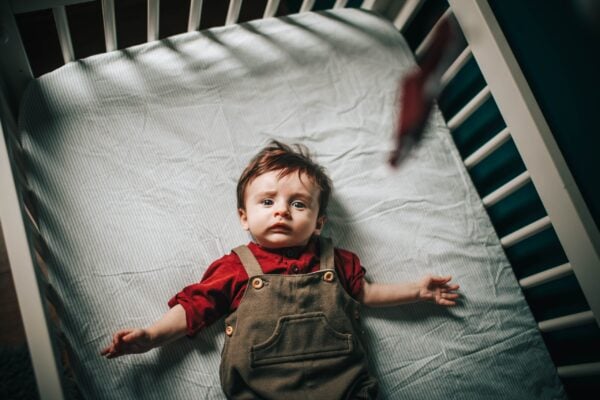 You forgot about naps 
A common mistake when teaching your baby independent sleep skills is to only focus on nighttime sleep. Don't get me wrong, you can start with nighttime sleep and then work on naps (although I don't usually recommend it). However, your baby will not truly have independent sleep skills unless they can put themselves to sleep independently at bedtime AND for naps. And not fully having these skills could impact nighttime sleep. 
So what do you do now? Work on sleep learning skills for naps! My 4-24 Month Course walks you through the whole process, and teaches you how to lengthen naps! Or you can grab a quick consultation and one of our amazing sleep consultants will give you individualized support based on where your little one is at, and both of your learning styles.
You've hit the "sleep training regression" 
That's right- there's a "sleep training" regression! I know, it's terrible news. However, it only lasts a few days. It happens around days 5-7 and it's where your baby will suddenly start protesting more and it will seem like "sleep training" is no longer working. The best thing you can do is stay the course, and things will bounce back in a few days. 
Inconsistency 
Yes, you need to be consistent, however, a balance is really important to success. With sleep learning, we teach you how to be consistent and yet tuned in. This means that you learn to read your baby's cues and give them what they need, and also be consistent, so your baby knows what to expect. We also recommend that if you feel like the process isn't working, to wait 1-2 weeks before making any major changes to your sleep learning plan. 
There's a missing piece 
Sometimes you are doing ALL THE THINGS correctly, and it's still not clicking. This is when we want to evaluate the whole picture and it's why taking a holistic approach is so important. The truth is, all babies can learn to sleep better; it's our job to figure out exactly what they need to learn these skills. 
The first thing to consider is temperament. Some babies are just feistier. If this sounds like your little one, give your baby what they need and then scale back intervention as you promote independence. Tune into your mom gut and reevaluate the "sleep training" approach you chose. Maybe it's not a great match for your baby and they would do better with an approach that was better geared to their learning style. 
 It's also important to rule out possibilities such as reflux, gas, and sensory needs. There are resources out there to help you! You're not alone. If you suspect there is "something else" going on and impeding your little one's ability to learn better sleep skills, talk to your pediatrician, chiropractor, occupational therapist, etc. to get to the root of the issue. FYI, my 4-24 Month Course has a whole segment on "tricky babies" and evaluating the bigger picture. I give you tons of advice and tips on how to deal with gas, potential food intolerances, reflux, tongue and lip ties, and very jerky or fidgety babies. 
Check out this Instagram Reel for some tips on jerky or fidgety babies: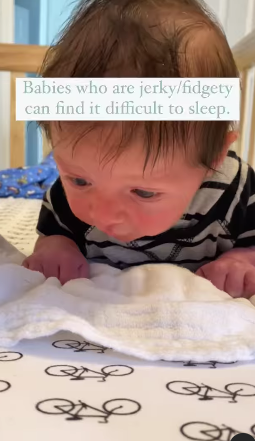 It actually IS working 
When you are sleep-deprived, it is easy to forget that progress isn't linear. It's also easy to inadvertently have unrealistic expectations about the process of sleep learning. This is why keeping a sleep log for at least the first 2 weeks is essential. The data you gather in the form of a chart will help you see the bigger picture. You will know what's working and where tweaks need to be made. More often than not, "sleep training" actually IS working, it is just easy to catastrophize and say it's NOT working when you have a bad night or a few off naps. 
Recap on why sleep training is not working 
Overall, there are many different reasons why "sleep training" may not be working for your little one. And besides going over these 7 reasons, the best thing you can do is speak to an expert. We can help you figure out what approach to sleep learning will work best for you and your baby, and when to stay consistent versus make some tweaks to the plan. Afterall, these are the hardest pieces to doing it alone.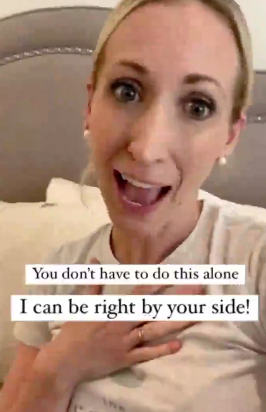 We offer a variety of services to support you. You can grab my 4-24 month sleep learning course where I walk you through everything you need to know about our 4 approaches, how to choose the right one, and how to tailor it to your baby's needs. We also offer different consultation options. We have everything from a 30 minute phone consultation, to more support where we can check in daily with you, or hop on Zoom to watch the monitor with you, or even come to your house and do all the work for you! 
Whatever you need, we've got you! Check out all of our personalized consultation options here!