Sleep regressions can happen all the time and for a variety of reasons. Know that sleep regressions will happen and that it is going to be ok!
While sleep regressions can happen at any time, here are a few common ones to be on the lookout for: 
The teething sleep regression can be a tough one. It can also be hard on you as a mama, to see your little one in discomfort. Know that this regression and the discomfort it causes WILL pass!
In this blog, I'll go over:
What is the "teething sleep regression"?
How long will teething affect sleep?
What can I do to help my baby?
Now, let's get into it!
What is the "teething sleep regression"?
The teething sleep regression is exactly what it sounds like. When your little one's teeth start coming in, it can cause them some pain and discomfort which ultimately affects their sleep.
Because teething typically starts anywhere from 6-9 months, it is SO great to have sleep learning done before then, and at 4 months. If your baby can initiate sleep on their own and has a solid sleep schedule, teething won't throw off their sleep too much.
If you haven't gone through the sleep learning process with your baby yet and are wondering if it's the right time, check out this reel!
Click here to watch "How to Know When it's Time for Sleep Learning" on Instagram.
So, how do you know if your baby is teething?
You'll know that they've got some teeth coming in when their gums are slightly bulging, have a more reddish hue than normal, and are more sensitive to the touch. To test this out, try sticking your (clean) finger into your baby's mouth and feel around their gums. Are they pulling away or crying? Yup…their new teeth are coming in hot and making your baby's mouth feel sore in the process. 
If you don't notice your baby's teeth coming in right away, a telltale sign might be that you notice them waking every 1-3 hours during the night, even if they were a great sleeper. 
Some other signs your baby is teething include:
Extra drool

More spit up

Pulling an ear

Wanting to eat less or more

Crankiness

Clinginess

Runny nose

Rosy cheeks
How long will teething affect sleep?
The teething sleep regression is different from others in that this one can be recurring as often as your baby gets new teeth. 
These teeth usually come in 2 or 4 at a time. They can mess with your baby's sleep anywhere from 2 days to 2 weeks per teething episode. 
Usually, the pain from a teething episode is gone in about a week. It's the teeth breaking through the gums that cause the most discomfort. With that in mind, once you are able to see the full top of the tooth finally outside of the gums, know that most of the pain is gone!
If it feels like teething is mostly affecting your baby's naps even if they were a great napper before the teething, check out my FREE Ultimate Naps Guide. It can be a great refresher on optimizing naps and help you troubleshoot while you wait for the teething regression to blow over.
What can I do to help my baby?
We're in luck here because the teething sleep regression only really lasts about as long as the teething episode. That being said, this is a whole different kind of regression than you might be used to, considering all of the discomfort it can bring.
The good news about the teething sleep regression is that there are things you can do in the meantime to help soothe and comfort your baby.
Teething toys:
Try offering your baby a teething ring or a chew toy. And always keep in mind best safety practices! The AAP recommends against soft items that could be a smothering hazard before 12 months in the crib! 
Frozen Teethers:
One of my favorite things to offer during the day is something hard and frozen, like ¼ of a frozen bagel. This is great because they don't get too mushy but also provide cold relief. For more mushy frozen foods, I like to use a mesh teether to help your baby hold it.
Tylenol or Motrin (after 6 months!):
Tylenol, before your baby goes to bed, can be a great pain relief if you are sure that the teething discomfort is what's causing the sleep regression. Motrin on the other hand also helps with the inflammation of their gums. Note that your baby must be 6 months or older before using Motrin! 
Offer Your Comfort:
Don't be afraid to help soothe your baby if they wake up at night crying from the discomfort. Your goal here is to be responsive to their needs without creating bad sleep habits. This is where tuning in to your baby's individual sleep needs and personality comes in!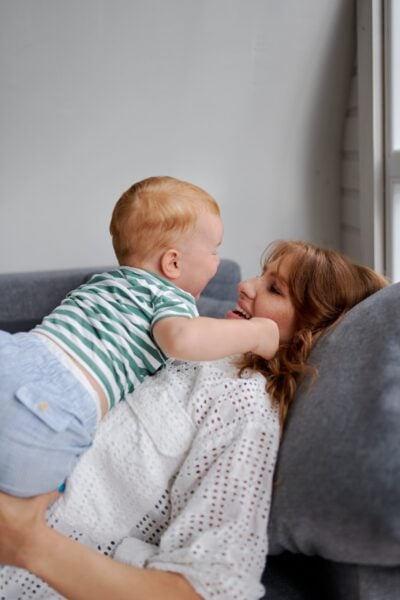 Recap on The Teething Sleep Regression
While the teething sleep regression is typically unavoidable, know that sleep can and will go back to normal! Sometimes those teeth come in back to back to back, and it might feel like it will never end. 
The good news? There are things you can do to help soothe and comfort your baby in the process!
Just like any other sleep regression, know that when your baby has a good, solid sleep foundation and schedule, you and your baby will get through this SO much easier.
Overall, try not to stress! I know how hard teething can be for both mama and baby. It is the WORST seeing our kids in any sort of discomfort. I promise it'll get better.
Remember that you are NOT in this alone! If you feel like you need more personal support and troubleshooting, grab a consultation. I've got an entire team of incredible consultants who are ready to help and support you at any level you want or need.